FALL 2023 START
Program Overview
HEALTH SERVICES AND healthcare organizations — from clinics and hospitals to assisted living facilities — are vital to the well-being of individuals and communities. For these settings to deliver quality care, they need skilled, talented leaders to guide them in the right direction. At JWU Charlotte, you'll gain the skills required through case studies, experiential education, lectures and guest speakers from the healthcare industry.
If your passion is to help others through healthcare, but your interest and skills are more in line with business and management, healthcare administration could be the perfect fit. And with a projected job growth rate of 32% in healthcare administration (according to the Bureau of Labor Statistics), this is the best time to start working on your degree.
Through this program, you'll study both public health and business principles. You'll gain the ability to make data-driven solutions to deliver efficient, high-quality healthcare services. And, you'll learn skills for evaluating healthcare systems through data analysis, policy development, and a core understanding of public health theory.
---
Healthcare Administration Program Advantages
By earning your Healthcare Administration degree at JWU, you'll have an advantage over students at other schools. Our program's faculty have practical industry experience and our innovative curriculum focuses on the future of healthcare and healthcare finance and delivery. JWU's graduates leave with an understanding of the underlying issues that drive healthcare and healthcare outcomes in the US.
Charlotte Healthcare Sector at a Glance
The Charlotte metro area is one of the fastest growing regions in the U.S., and the healthcare sector alone has a $20 billion dollar impact. Healthcare providers, insurance companies, pharmaceuticals, bio-tech startups, and research are all part of a rapidly-expanding ecosystem of health-related jobs.
163,000+: Number of healthcare industry employees in the region
70%: Workforce growth in the life science in industries since 2010
60+: Number of biotech/bioscience-related research and development centers, production and manufacturing companies, research and testing laboratories
141%: Growth in bio-pharamceuticals since 2010
Atrium Health • Novant Health • CaroMont Health Inc.: Top Healthcare Providers
Carolinas Medical Center (Atrium): One of 5 Level-One trauma centers in North Carolina
Source: Charlotte Regional Business Alliance Healthcare Sector Overview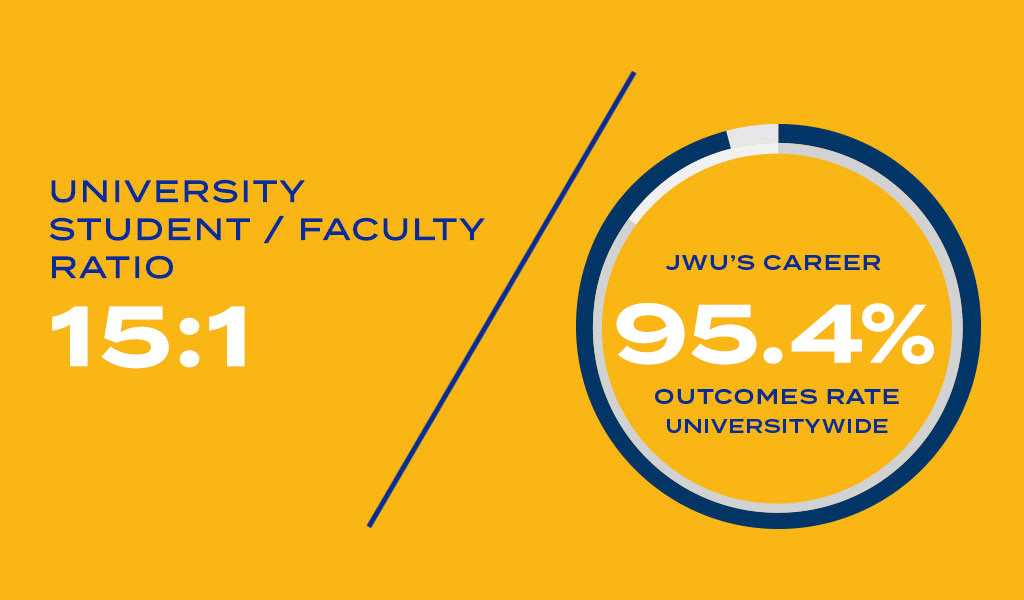 For an explanation of the career outcomes rate and other information, visit JWU Student Consumer Information.
---
Sample Healthcare Administration Courses
Introduction to Healthcare in the U.S.

Health Policy, Ethics & the Law
Healthcare Organizational Theory & Management

Innovations in Healthcare Finance & Delivery Systems
Quality Improvement in Healthcare Organizations

Research Methods for Health Science
In addition to classes, free elective credits can be applied to a number of options such as Directed Experiential Education (DEE), internship, minor or study abroad. You are encouraged to contact an advisor before scheduling free elective credits.
The JWU Catalog link will be posted once it becomes available.
---
Why Study Healthcare Administration at JWU?
Great question! The attention and experience you receive at Johnson & Wales more than prepares you for your future. Unlike larger universities where you can get lost in lecture halls, at JWU your professors will know your name, mentor you along your path, and instill both a health and business foundation to ensure a deep understanding of healthcare leadership.
You'll also gain a deep understanding of data, which is a skill all healthcare organizations seek from job candidates.
To get the full picture of all this program offers, download the Healthcare Administration infographic for details on all the advantages of earning your bachelor of science degree in Healthcare Administration at JWU.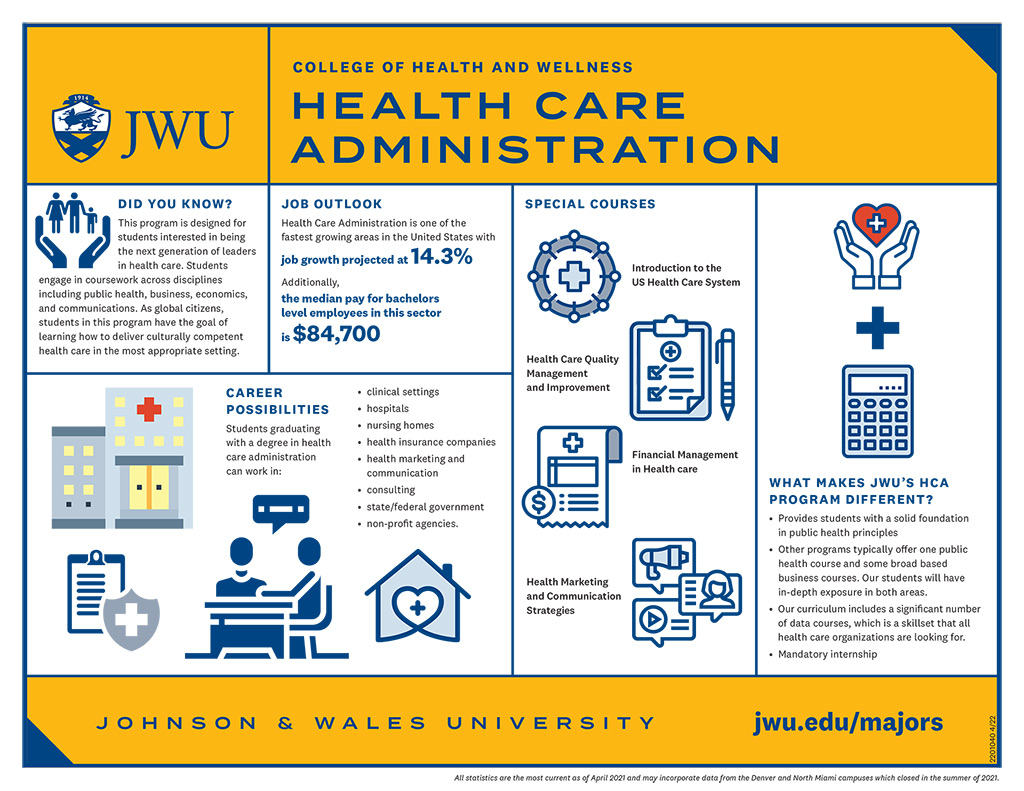 Download the Healthcare Administration infographic (PDF)
---