---
Jennifer Swanberg
Professor
JWU Faculty Since 2020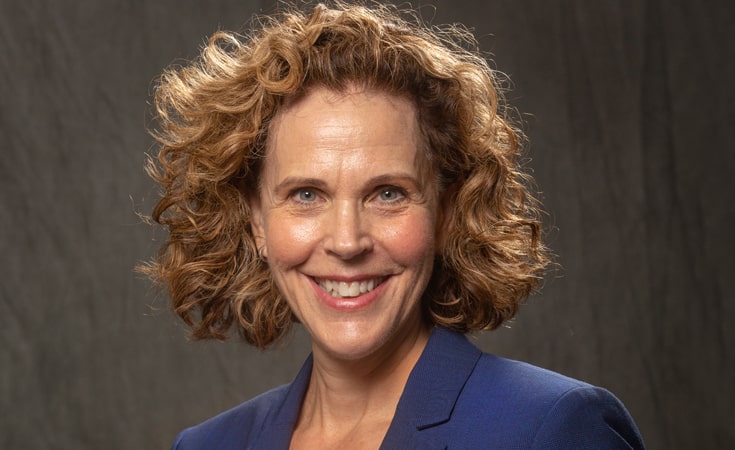 Jennifer E. Swanberg, Ph.D. MMHS, OTR/L, is an internationally known scholar dedicated to improving the quality of work life and well-being of vulnerable working populations through research and policy interventions. She comes to JWU with 25 years of experience in higher education as a teacher, researcher, founding director of an academic research center, school dean and as social policy advocate.

Swanberg's research focuses on the development of workplace and public policies that promote occupational health and wellbeing. Her research expertise includes low-wage work, occupational health disparities, worker health, and work-life balance; she has also designed and implemented community- and industry-engaged studies utilizing innovative qualitative and quantitative research designs. She has worked with diverse employee populations, regularly engages employers and key industry and community stakeholders in the research process and is committed to translating research findings into resources that employers and policy makers can use to improve occupational health and safety and employee well-being. Such entities as the National Institute of Health, Center for Disease Control and Prevention/National Institute of Occupational Safety and Health, the Ford Foundation, and the Alfred P. Sloan Foundation have funded her research studies.

Swanberg's current research explores breast cancer survivors' experiences managing the cancer-work interface and examines health care quality among sexual and gender minority populations. She is also leading a study that is examining the meaning of work in women's lives.

She serves on the National Occupational Research Agenda (NORA) Health Work Design and Well-being (HWD) Cross-Sector Council, an initiative of the Center for Disease Control's National Institute for Occupational Safety and Health. She has published extensively in top-tier research journals; provided testimony in support of federal and local labor-related policy initiatives; in addition, media often consults her about matters pertaining to low-wage work and work-family issues. She is the recent past U.S. editor of the academic journal Community, Work and Family. In 2010, she was invited by President and First Lady Obama to attend the White House Forum on Workplace Flexibility.

She holds a Ph.D. in Social Policy and a MMHS in Management, both from the Heller School of Social Policy and Management at Brandeis University, and a B.S. in Occupational Therapy from the University of New Hampshire.

Education
Ph.D., Social Policy, Brandeis University
MMHS, Management, Brandeis University
B.S., Occupational Therapy, University of New Hampshire
Courses
OTD8320: Research III
HSC1230: Introduction to Public Health
HSC1100: Determinants of Health