---
Evan Villari
Professor
JWU Faculty Since 2015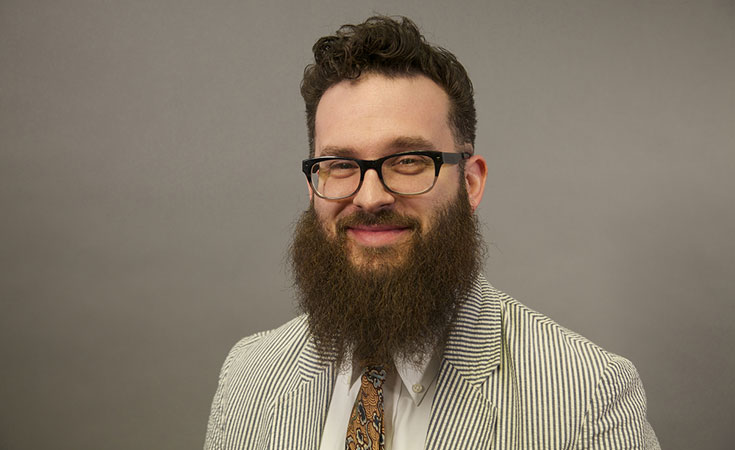 As a self-described experimental autobiographic documentary filmmaker, Evan Villari creates small pictures from his own experiences, which contribute to larger societal conversations. His films, shot both digitally and on celluloid, have been shown in group and solo screenings from Boston to Anchorage.

The past 15 years have found him in the classroom teaching a variety of media production, filmmaking and communication courses.

Previously, Villari served on the faculty of Rhode Island School of Design in both the Film/Animation/Video degree program as well as in the Continuing Education Division, where he was the program advisor to the Digital Video Production and Animation + Video Programs. In 2009, while at RISD, he was recognized with a Teacher of Excellence award.
Education
M.F.A., Visual Arts: Film/Video Production, Art Institute of Boston at Lesley University
"In my classroom, I provide an environment where my students' unique identities are of utmost importance. Our meetings and the subsequent work they produce — ranging from short films to presentations to essays — are a celebration of self."
Scholarly Interests
Film-/Video-Making
Media Production
Electronic Cinema
Documentary Filmmaking
Experimental Filmmaking

Courses
MCST 1150: Introduction to Media Production
MCST 2610: Motion Picture Editing
MCST 3650: Documentary Filmmaking
MCST 3600: Narrative Filmmaking
Toggle
Professional Affiliations
International Documentary Association
American Communications Association
Photographic Historical Society of New England
Leadership Rhode Island, Kappa II Class of 2014

Toggle
Honors And Awards
Independent Producer Funds - Rhode Island PBS - 2021
Documentary Production/Major Grant - Rhode Island Council for the Humanities - 2020
Documentary Development Grant - Rhode Island Council for the Humanities - 2019
Individual Research Grant - Rhode Island Council for the Humanities - 2018