---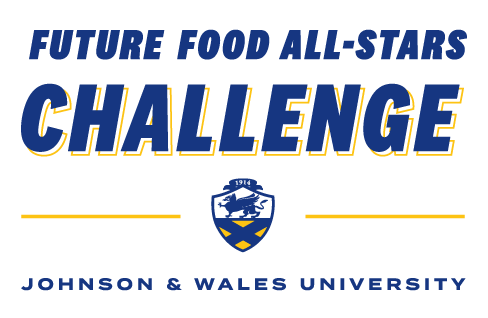 ---
Future Food All-Stars Challenge
Co-hosted by JWU's Larry Friedman Center for Entrepreneurship and College of Food Innovation & Technology (CFIT), the Future Food All-Stars Challenge is an annual "Shark Tank"-style competition where JWU student teams spend the semester developing their business or product ideas into full-fledged concepts. Proposals will be chosen for their potential to succeed, as well as their ability to address a range of problems intrinsic to our food system, including food waste, ecological impacts, and more.
The 2022 Food Entrepreneur in Residence is Lorena Garcia '00, '14 Hon. Chef Garcia is well known as an author, "Top Chef Masters" competitor, TV host and restaurateur; she is also the founder of the nonprofit Big Chef, Little Chef.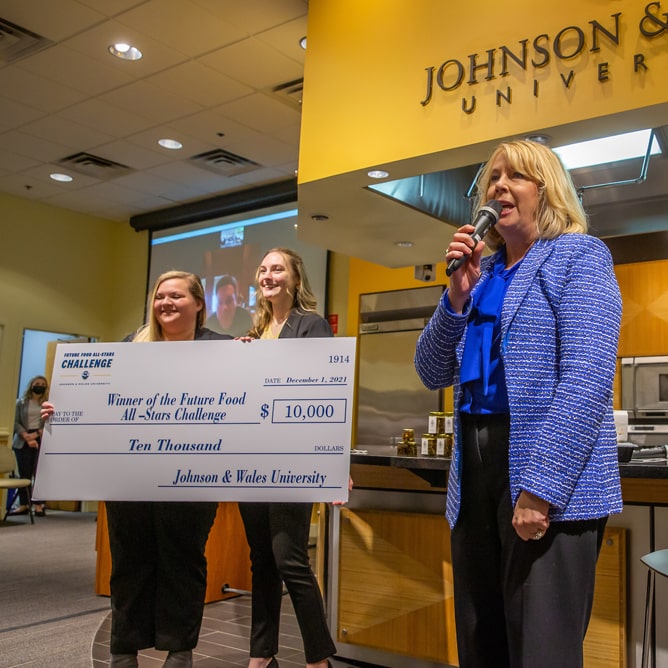 I loved getting to know all of our competitors and hearing their ideas each week. It was really amazing to spend time with so many bright minds with brilliant concepts! Competitor Kayce Jernagan '22 (Sunflower Kids)
2022 Finalists
Meet this year's finalists:
The Arbor Bar
Sean Holmes
Seth Caldwell
Lexi Lloyd
Skylar Bailey
Concept: Day-to-night coffee café and high-end bar showcasing foraged and local ingredients as a way to educate diners about sourcing, seasonality, and the carbon footprint of a meal. The aim is to provide fine-dining desserts with low eco-footprint.
Symbiotic Creations WINNER
Jonathan Beres
Gabrielle Bartlett
Benjamin Weinstein
Symbiotic Creations creates shelf-stable snacks made from culinary byproducts and designed for health-conscious consumers who don't have access to essential nutritious foods. Their first product, Scoby Snacks, will utilize a byproduct of the kombucha brewing process known as a SCOBY (Symbiotic Culture of Bacteria and Yeast). Scoby Snacks will be a probiotic-packed fruit snack that is made of natural ingredients, including fruit juices and peels, fresh herbs, and spices. 
True North Brewery
Lucas Nunez
Evelyn Pisch
Russell Morse
Shelby Waite
Concept: Each year, breweries discard roughly 35 million tons of spent grains that are created during the brewing process. True North will control 100% of their spent grains in house, using them in breads, snacks, and natural sodas using the wort. The beer flavors will be seasonal and will include a chocolate stout, a brown ale, and a hazy IPA. Their overall goal will be minimal waste and an unmatched food-and-drink experience.
---
Catch Up with the 2021 All-Stars
Interested in taking part in the next Future Food All-Stars Challenge? Discover what the Challenge is all about — and what it takes to be a contestant — by watching the 2021 All-Stars finalists complete for the grand prize of $10,000.
Watch them pitch their business ideas to a panel of judges that includes Food Entrepreneur in Residence Tyler Florence '94, '04 Hon. (appearing virtually via Zoom); Michael Rypka '96, Torchy's Tacos founder; Dean Jason R. Evans, Ph.D., of CFIT; and Dean Mary Meixell, Ph.D., of the College of Business.
---
About Lorena Garcia '00, '14 Hon.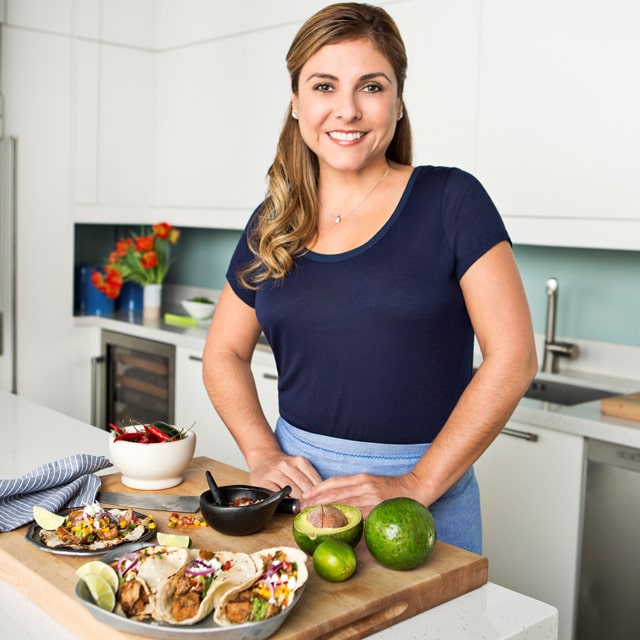 Venezuelan-born Lorena Garcia is currently one of the country's leading chefs. Though she originally went to school in Venezuela to become a lawyer, she soon realized she had a different calling and enrolled at Johnson & Wales University. She graduated with a degree in culinary arts and has also received an honorary doctorate degree from the institution.
Garcia took her first job as an apprentice at the Ritz in Paris, and then worked her way through different regions of the world — including Italy, Japan, Korea, Thailand, and China — while picking up techniques and inspiration along the way.
Garcia is well known for her numerous accomplishments as a published author; TV series host for Emmy-nominated show "El Mejor de los Peores" for Fox Life; cocreator, executive producer and host for Nickelodeon Latin America's "Food Hunters"; and competitor on Bravo's "Top Chef Masters" Season 4. She also runs a successful chain of restaurants located in major airports, the most recent having opened at Dallas-Fort Worth International Airport.
In addition to Garcia's restaurants, she oversees the the Lorena Garcia Culinary Loft (Miami, Florida), which is available for private events and television productions. She has taken her love of cooking to the next level by creating the Lorena Bella Kitchen Collection for HSN, and has also developed the culinary nonprofit Big Chef, Little Chef, which helps children and their families take control of their eating habits.
Toggle

Meet the 2021 Winners
Can school lunches be reformed from the ground up? JWU Providence students Kayce Jernagan '22 and Julianne Surrette '21 have a vision for making lunches healthy, affordable, and — yes — fun. Their concept for Sunflower Kids, a nutrient-dense, single-serving meal plan for school-aged children, won the $10,000 top prize at JWU Providence's inaugural Future Food All-Stars Challenge.
"Sunflower Kids is really important to us because it gives kids the opportunity to get the full nutrients they need to continue their day."
For Jernagan, a Food & Beverage Entrepreneurship major who graduated in December, and Surrette, a Culinary Science and Product Development major, Sunflower Kids is a "passion project" sparked by their own experiences growing up.
"Sunflower Kids is really important to us because it gives kids the opportunity to get the full nutrients they need to continue their day, as well as being adaptable for allergies and dietary restrictions — which I did not get when I was in school," explains Surrette. For Jernagan, "My inspiration for this project comes from the community that I was raised in, which is very much a food desert. And a lot of kids struggle to get access to the healthy foods they need to grow big and strong."
Toggle

Meet the 2021 Teams
Bling: Cindy Campos' BLING concept is a sophisticated non-alcoholic base that can be turned into a spritzer with the addition of soda water and/or fruit juice, or can become a cocktail by adding the spirit of your choice.
Hemply Rooted: Maya Alderman, Jessica Hess and Asia Vo's Hemply Rooted condiment brings capsaicin (the chemical compound that puts the heat in hot sauce) and CBD (cannabidiol) together to create a unique flavoring agent that works to aid both physical and mental health.
Sustainable Soul: Keiana Coleman and Delila Torres' Sustainable Soul is a food truck focused on offering fresh, from-scratch menu items highlighting local ingredients and/or food items that have been rescued from the waste stream.
Sunflower Kids: Kayce Jernagan and Julianne Surrette's Sunflower Kids will produce and ship pre-packaged nutrient-dense, tasty meals that provide all the essential nutrients for school-aged children. The meals offered would vary by age groups and could easily accommodate any food allergy or dietary need. 
Power Pudding: Skylar Flynn's Power Pudding is a range of superfood-packed puddings designed to provide calcium, potassium, and other essential nutrients to seniors.
DoubleTake: Red Acker and Caitlin McCool's DoubleTake aims to create convenient meal packs out of items — be they produce or proteins — that might be unsaleable due to bruising, erratic sizing, or other imperfections.
Vegan Poke: Elle Raviv-Garbi's Vegan Poke offers a solution to the urgent problem of overfishing is an urgent problem, in addition to being a viable alternative for vegans/vegetarians.
Wonderland: Zacharie Curry's food/entertainment concept combines an indoor skate park with a fast-casual restaurant.
Before It Melts: Naomi Torre's Before It Melts is a new non-dairy, allergen-friendly ice cream truck designed to be inclusive and sustainable. Pea milk will serve as the primary "milk" source.
Toggle

Expert Advice from Chef Tyler Florence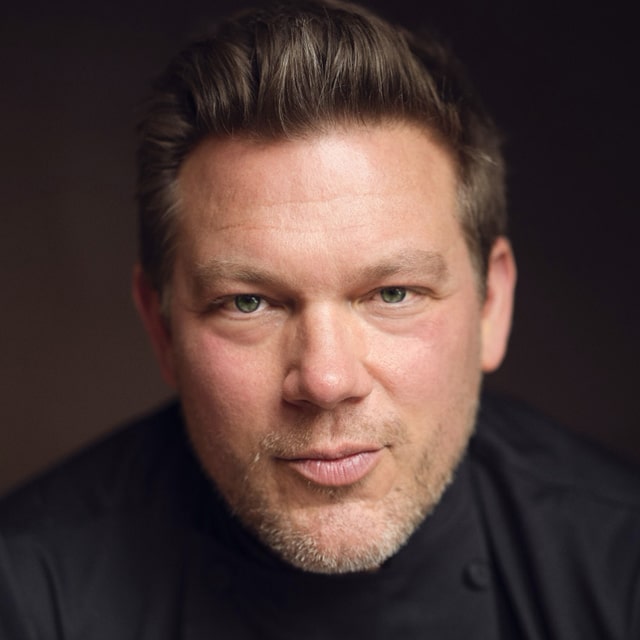 What does it take to launch a food empire? How do you bring the next big idea in food to the world?
Chef Tyler Florence shares what he's learned — from his early struggles to his early days with the Food Network — during an exclusive university virtual event.
"A business degree in hotel restaurant management … gave me the ability to kind of walk into any situation."