JWU Ad Team to Compete in 2017 Nationals
---
Story by Ryan Crowley , on May 9, 2017 9:00 PM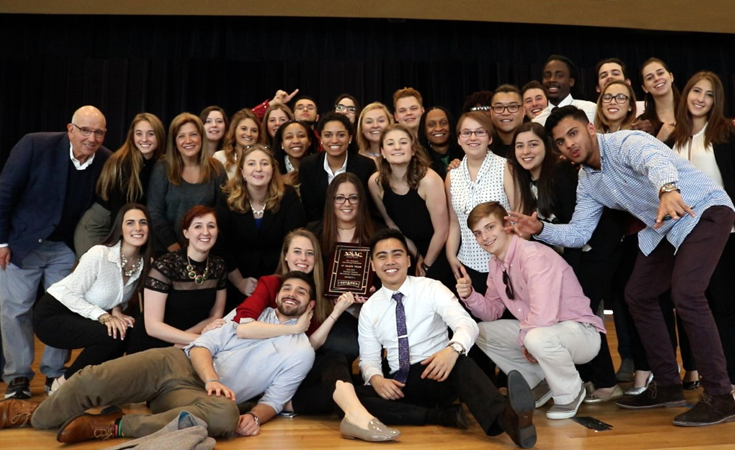 ADTEAM Makes National Round for Sixth Time in 7 Years
Providence, RI – May 9 , 2017 – The Johnson & Wales University (JWU) ADTEAM has advanced to final round of the National Student Advertising Competition (NSAC), held by the American Advertising Federation (AAF). JWU's 31-member team will travel to New Orleans to compete on June 8, against 7 other institutions:
University of Kentucky
Florida State University
Oklahoma State University
University of Central Oklahoma
Webster University
Grand Valley State University
South Dakota State University
This is the sixth time in 7 years that JWU' s AD TEAM will compete in the national round of the competition.
To qualify for nationals, the ADTEAM competed in a district round, beating out schools such as Boston University, Endicott, Emerson and others. The team then moved on to the eighteen team se mifinal round, where they advanced in favor of institutions including Syracuse, Louisiana State University, Purdue and others.
"Each student, regardless of whether their strength is the creative or strategic side of advertising, dives head first into conducting research," said Oscar Chilabato, associate professor, College of Business. "Based on that data knowledge, our students gain a deep understanding of the client's industry, target market and competition. Their research and i nsights are tightly tied to the creative recommendations, which form the basis for developing and executing our strategies. This is why the JWU ADTEAM has been able to reach the finals of the National Student Advertising Competition six out of the last sev en years."
The National Student Advertising Competition is AAF's premier annual college advertising competition which provides more than 2,000 college students the real-world experience of creating a strategic advertising, marketing and media campaign fo r a corporate client. All college teams that competed created an advertising campaign for this year's corporate client, Tai Pei, which offers 10+ varieties of single-serve, takeout-style entrées, an assortment of Asian appetizers and a full line of family-sized products. The campaigns included each element of advertising: television, radio, social media, and print.
MEDIA CONTACT: Ryan Crowley, communications & media relations specialist, 401-598-2752, ryan.crowley@jwu.edu
About Johnson & Wales University: Founded in 1914, Johnson & Wales University is a private, nonprofit, accredited institution with more than 15,000 graduate, undergraduate and online students at its four campuses in Providence, R.I.; North Miami, Fla.; Denver, Colo.; and Charlotte, NC.
An innovative educational leader, the university offers degree programs in arts and sciences, business, culinary arts, design and engineering, education, health and wellness, hospitality, nutrition and physician assistant studies. Its unique model integrates arts and sciences and industry-focused education with work experience and leadership opportunities, inspiring students to achieve professional success and lifelong personal and intellectual growth. The university's impact is global, with alumni from 123 countries pursuing careers worldwide. For more information, visit www.jwu.edu.