JWU's Oscar Chilabato Named American Advertising Federation's 2018 Distinguished Advertising Educator
---
Story by JWU Media Relations , on May 9, 2018 8:48 AM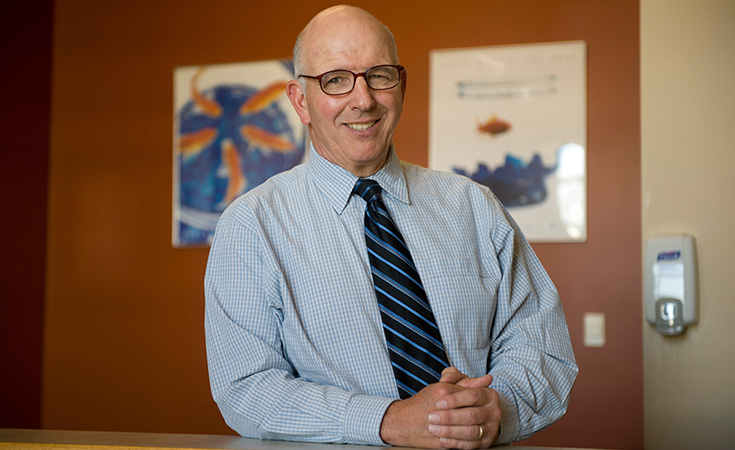 PRESS RELEASE
Providence, R.I. – May 9, 2018 – Oscar Chilabato, associate professor in the Johnson & Wales University College of Business, has been named the 2018 Distinguished Advertising Educator by the American Advertising Federation (AAF). The annual award, which recognizes the best advertising professors in the United States, will be presented on June 9 at ADMERICA, the AAF's national conference in Chicago.

"I am honored to accept this award on behalf of the many students who have come through our advertising program and benefited from the interdisciplinary and experiential education opportunities, such as the National Student Advertising Competition, available at Johnson & Wales University," said Chilabato. "We offer students a unique chance to broaden their knowledge and hone their craft before entering the workforce. Seeing our students excel during their academic careers before moving on to positions in the most prestigious advertising agencies in the country is rewarding, and motivates me to push the envelope as we continue to modify our curriculum to meet the needs of industry."

During his more than 20 years of teaching, Chilabato and has developed several courses that form the foundation of the JWU's current advertising and marketing communication degree program. He also has introduced new courses in media planning and buying, digital media planning, creative concepts and strategy, integrated marketing communications, art direction, and search engine marketing.

In 2017, the JWU ADTEAM won the AAF's National Student Advertising Competition for the first time. Chilabato and associate professor Christine Ure, who have served as faculty advisors to the JWU AD TEAM for the last 20 and 13 years respectively, have guided teams comprised of students from a variety of disciplines through the annual competition that provides the real-world experience of creating a strategic advertising, marketing and media campaign for a corporate client that includes each element of advertising: television, radio, social media, and print.
About JWU
Founded in 1914, Johnson & Wales University is a private, nonprofit, accredited institution with more than 14,000 graduate, undergraduate and online students at its four campuses in Providence, Rhode Island; North Miami, Florida; Denver, Colorado; and Charlotte, North Carolina. An innovative educational leader, the university offers degree programs in arts and sciences, business, culinary arts, design and engineering, education, health and wellness, hospitality, nutrition and physician assistant studies. Its unique model integrates arts and sciences and industry-focused education with work experience and leadership opportunities, inspiring students to achieve professional success and lifelong personal and intellectual growth. The university's impact is global, with alumni from 124 countries pursuing careers worldwide.
MEDIA CONTACT: Ryan Crowley, communications & media relations specialist, 401-598-2752, ryan.crowley@jwu.edu.