JWU Graduate Designs Conversation Spaces on Wickenden Street
---
Story by JWU Media Relations , on Oct 2, 2018 12:44 PM

PRESS RELEASE
PROVIDENCE, R.I. — October 1, 2018 – The City of Providence has installed 15 conversation benches, designed by a Johnson & Wales University (JWU) graduate, along Wickenden Street in the Fox Point neighborhood.
In collaboration with Providence City Councilman Seth Yurdin, the Wickenden Area Merchants Association and the Fox Point Neighborhood Association, Jonathan Harris, associate professor in the JWU College of Engineering & Design, led a class project in which students submitted designs for benches and tree grates that serve as conversation spaces.
"This kind of project gives our College of Engineering & Design students an opportunity to showcase their talents and capabilities, all while making a positive impact in the community," said Jonathan Harris, associate professor. "It also provides students a chance to help a neighborhood achieve its goals. I'm proud of this collaboration and look forward to finding other ways to partner with the community."
"Great thanks to Johnson & Wales University, the Wickenden Area Merchants Association, and the Fox Point Neighborhood Association who worked together to make this project happen," said Councilman Seth Yurdin, Ward One, who successfully advocated for Community Development Block Grant funding for the project. "This is great example of how our public and private sectors work together to make a better neighborhood for residents, strengthen Providence's unique urban fabric, and support our local businesses. A special congratulations to JWU Alum, Ali Aljassas, whose design was chosen for this project."
The Wickenden Area Merchants Association selected the design concept created by Ali Aljassas, who has since graduated and returned to his home country of Saudi Arabia.
"I felt so honored and so special to be chosen," says Ali Aljassas, who graduated with an Engineering Design & Configuration Management degree. "Our clients wanted a positive environment where people could meet other people and where they could have conversations and start friendships. I added this experience to my résumé right away, because I was happy that someone recognized my skills and the thought that I put into the design."
"It was fun to meet the students and watch their ideas develop over the course of the project," said Vin Scorziello, president of the Wickenden Area Merchants Association. "This was a great collaboration between WAMA, Johnson & Wales and the City of Providence."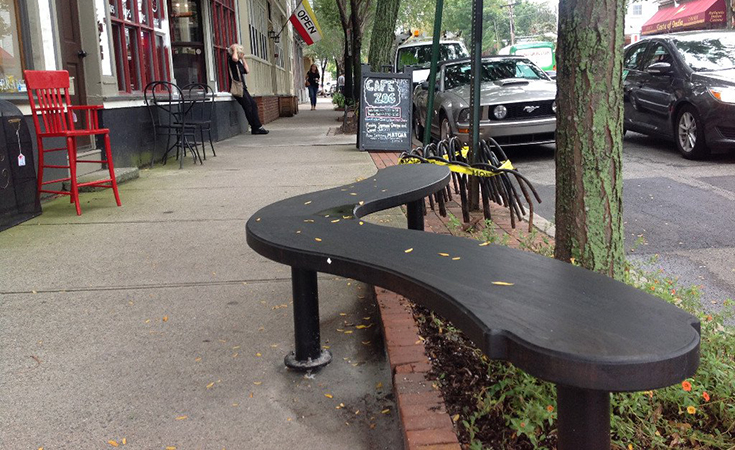 About JWU
Founded in 1914, Johnson & Wales University is a private, nonprofit, accredited institution with more than 14,000 graduate, undergraduate and online students at its four campuses in Providence, Rhode Island; North Miami, Florida; Denver, Colorado; and Charlotte, North Carolina. An innovative educational leader, the university offers degree programs in arts and sciences, business, culinary arts, design and engineering, education, health and wellness, hospitality, nutrition and physician assistant studies. Its unique model integrates arts and sciences and industry-focused education with work experience and leadership opportunities, inspiring students to achieve professional success and lifelong personal and intellectual growth. The university's impact is global, with alumni from 124 countries pursuing careers worldwide.
MEDIA CONTACT: Ryan Crowley, communications & media relations, 401-598-2752