Johnson & Wales University Graduates Second Class of Physician Assistants
---
Story by JWU Media Relations , on Jul 18, 2017 4:34 PM
PRESS RELEASE
Providence, R.I. – July 18, 2017 – For the second year in a row, all students enrolled in the two-year Master of Science in Physician Assistant Studies at Johnson & Wales University have graduated on time and passed the board certification exam administered by the National Commission on Certification of Physician Assistants.
"This is truly a remarkable achievement," said George Bottomley, DVM, PA-C, dean of the JWU College of Health & Wellness and founding director of the JWU physician assistant studies program. "We set the bar high when we first selected students for the inaugural class that began in 2014. All 23 students graduated on time and achieved a 100 percent pass rate of the PANCE (Physician Assistant National Certifying Exam.) Our second class has followed suit by doing the same, and our third class of physician assistants are working hard to keep this tradition going."
Of the 24 physician assistant students who graduated this May, 10 have accepted positions in Rhode Island. In June 2014, Johnson & Wales launched Rhode Island's first physician assistant program.
The first year of the two-year, year- round program includes classroom instruction, with the second year for clinical rotations. For more information on JWU's Physician Assistant program, visit: https://www.jwu.edu/PA/.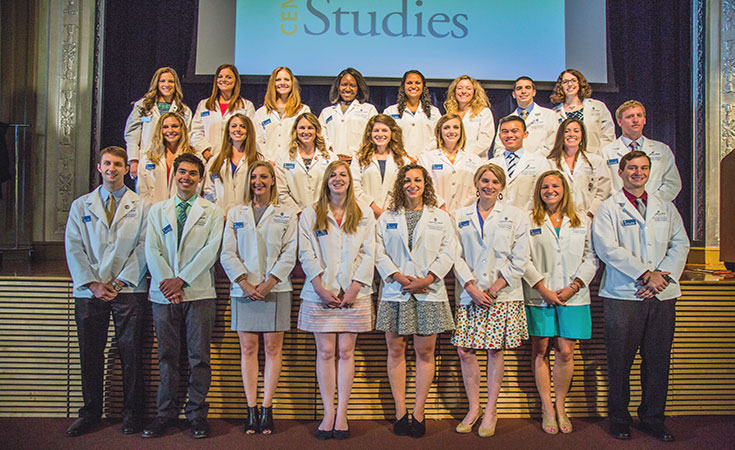 About Johnson & Wales University
Founded in 1914, Johnson & Wales University is a private, nonprofit, accredited institution with more than 8,000 graduate, undergraduate and online students at its campuses in Providence, Rhode Island and Charlotte, North Carolina. An innovative educational leader, the university offers undergraduate and graduate degree programs in arts and sciences, business, engineering, food innovation, hospitality, nutrition, health and wellness. It also offers undergraduate programs in culinary arts, dietetics and design. JWU's unique model provide students with the personalized attention, academic expertise and industry connections that inspire professional success and personal growth. The time students spend at JWU is nothing short of transformative, as demonstrated by career outcomes, expected earnings and economic mobility rankings. The university's impact is global, with alumni in 125 countries pursuing careers worldwide.
END
Media Contact: Ryan Crowley, communications & media relations specialist, 401-598-2752, ryan.crowley@jwu.edu