You'll hear a lot about the Wildcat Way at Johnson & Wales University: Pride, Courage, Character and Community. These are the 4 tenets that characterize what it means to be a Wildcat, both on the athletic fields and in the classroom. 
At JWU, Wildcat Pride is inseparable from that sense of pushing yourself to do more than you think you're capable of, whether it's making that goal in the last 10 seconds of the game, getting an A on your Statistics final or plating an exquisite plate.
It's also about being part of a community that's bigger than yourself. THAT'S #JWUSpirit.
To further enhance the university's sense of tradition — and to recognize the importance of public art — the university installed bronze Wildcat sculptures on all campuses. They have quickly become icons and focal points — no campus tour is truly complete without a group selfie with the cat — and a visible emblem of JWU's evolution as an institution of higher learning.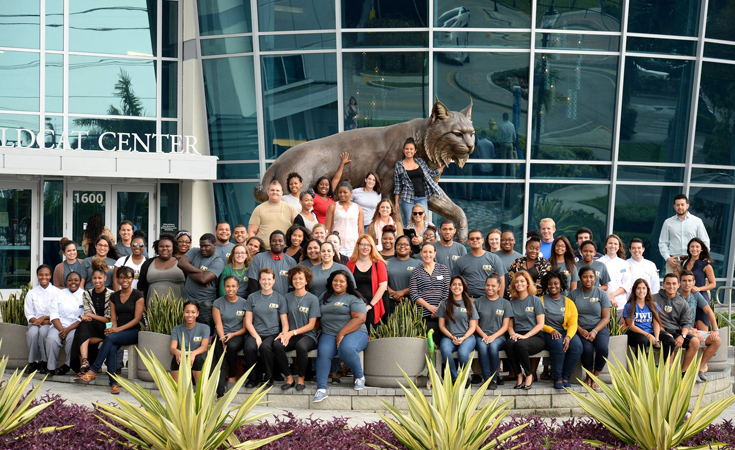 In addition, all JWU campuses introduced a redesigned mascot, Wildcat Willie, in 2013; the new mascot quickly became "an ambassador for school spirit," notes Scott Lyons, director of student activities.
Follow #IAmJWU on Instagram.
Our Providence Campus
In addition to our Downcity Campus, the university revitalized close to 100 acres of waterfront alongside our Harborside Campus, providing a stunning natural setting and a range of environmental and recreational benefits to the community. The campus' 82,000-square-foot Cuisinart Center for Culinary Excellence showcases stunning views of Narragansett Bay and is designed as the nation's first LEED® (Leadership in Energy and Environmental Design) certified culinary lab.
Virtual Tour: Providence Downcity
Virtual Tour: Providence Harborside
Our Charlotte Campus
JWU moved to a blighted area being redeveloped; today the campus encompasses 8 buildings on 13 acres in Uptown Charlotte.
Virtual Tour: Charlotte