Join a Legacy of Culinary Excellence
Program Overview
THE FUTURE OF FOOD is taking shape at JWU. Join this first-of-its-kind bachelor of science (B.S.) degree program that integrates culinary arts with sustainability, critical thinking, advocacy, and leadership to create tomorrow's food leaders.
What Is a Sustainable Food Systems Degree?
JWU Providence's Sustainable Food Systems program offers career pathways through which chefs and food enthusiasts can be agents of change around the world as food strategists, entrepreneurs, policy makers, nonprofit professionals, educators, sustainability officers and so much more.
Content areas include professional culinary training, food system design, agriculture, and research in supply chains, nutrition, science, and food policy. Exploration of environmental, social, economic, and political elements of sustainability will come into play as students critically examine issues in the production, processing, and distribution of food. The challenges of food equity, food waste, human health, social sustainability and social justice figure prominently throughout the curriculum.
Bringing Food Systems to Life, From Farm to Dock
Food systems are complex and interconnected. Sustainable Food Systems places an emphasis on examining our food webs, supply chains, and community networks by asking (and answering) questions about how systems can be made more sustainable or scalable.
From the macro to the micro, Sustainable Food Systems is hands-on when it comes to bringing food systems to life. Farm visits look at seasonality, sustainable agriculture, and hydroponic or organic vs. conventional growing — as well as the extensive resources it takes to get that food to your plate.
Students also get to meet fishermen, quahoggers, oyster farmers, marine biologists and others who make their living on Narragansett Bay. What does it mean to work sustainably within an ecosystem? How can chefs become better advocates for responsible use of these resources?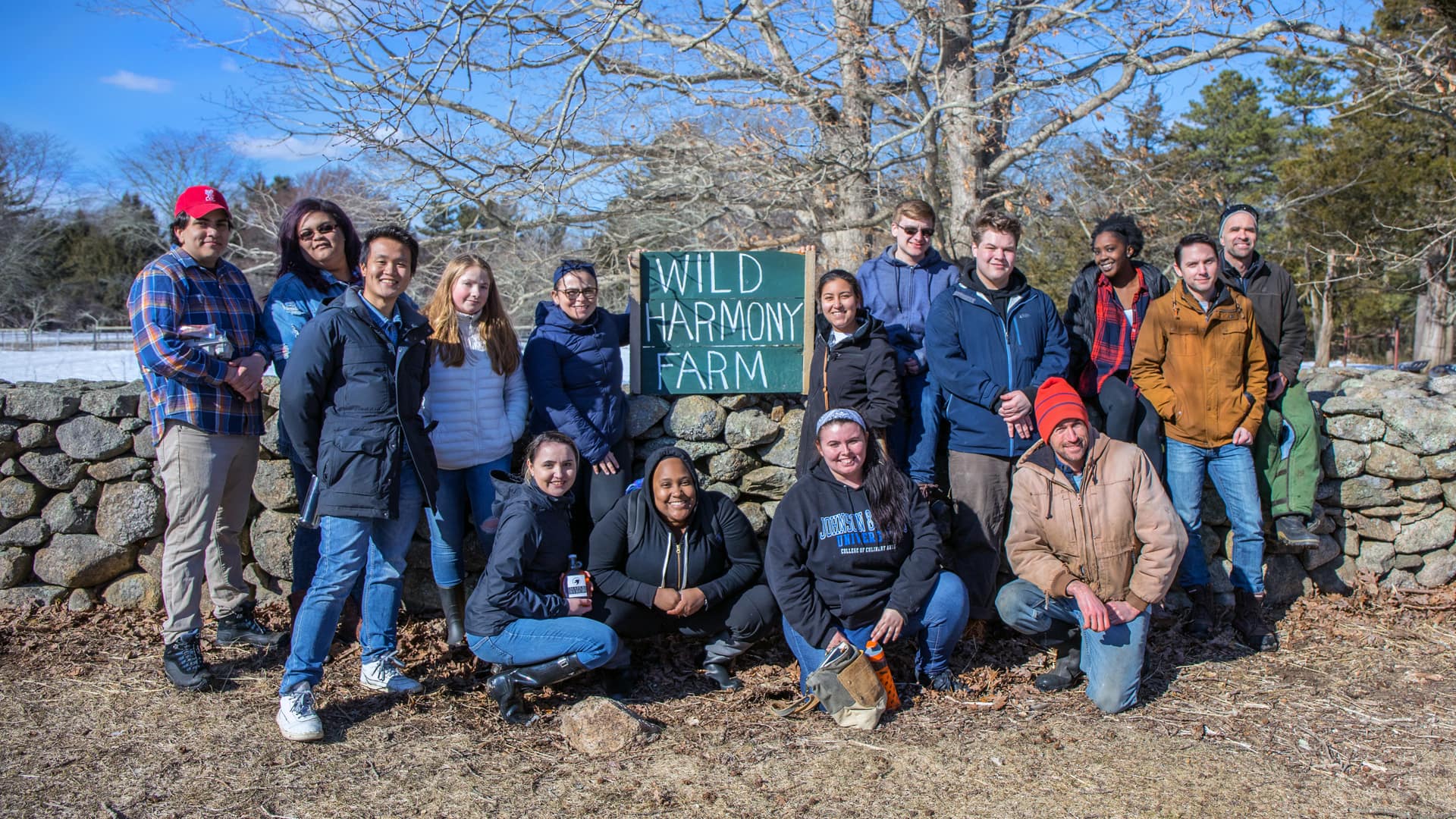 Find Your Mentor(s)
Our interdisciplinary curriculum provides a framework that allows you to work closely with chefs and other faculty with expertise in a range of disciplines relevant to culinary sustainability. Each of these mentors will help you refine your own career goals and prepare you to become part of a generational cohort of globally-aware food leaders.
Cultivate Your Own Path
Sustainable Food Systems begins with a core foundation in Culinary Arts or Baking & Pastry Arts. (Yes, you DO get to cook!)
Second-year labs include Cooking for Regenerative Foodways, which offers a critical investigation into the ways that socio-cultural and economic power struggles affect food and cooking, and Cooking for the Farmstand, a hands-on course looking at ways to localize and decolonize our menus — as well as how to utilize local products in season.
The junior year allows greater flexibility in customizing courses that align with your career interests. Choose from one of the following minors:
Culinary Sustainability
Environmental Sustainability
Public Health
Or one of these areas of academic focus (Providence only):
Policy & Advocacy Focus
Writing for Development Focus
Supply Chain Management Focus
You can also work with an advisor to customize an experience à la carte (so long as prerequisites have been fully met).
During senior year, you must complete an internship relevant to your area of study in sustainable food systems, including food production, supply chain management, public health, policy and advocacy, or other related topics.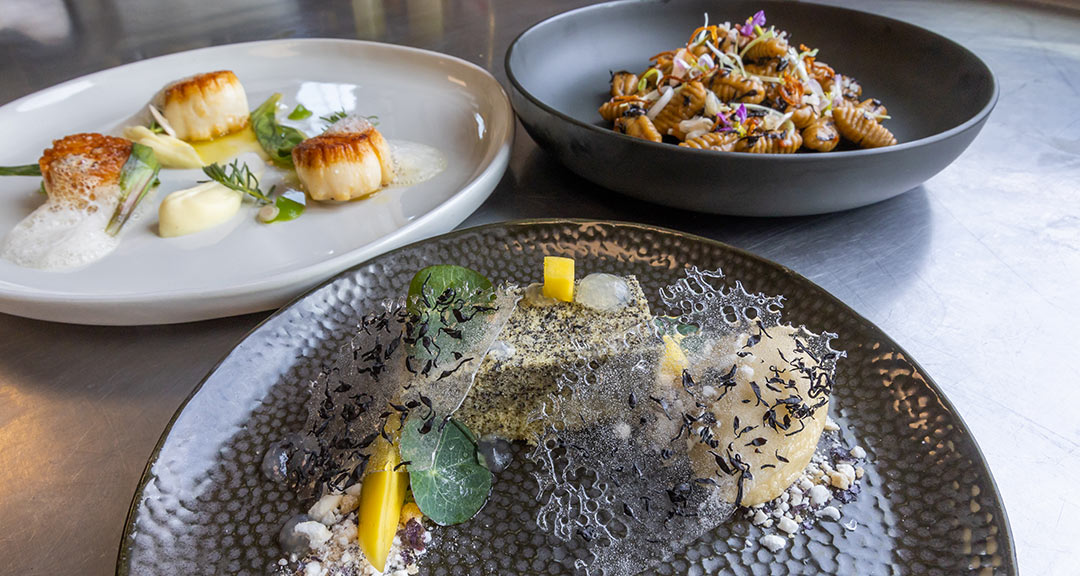 Make a Career Out of Saving the World
Sustainable Food Systems encourages you to discover where your passion for food can take you. Communities, corporations, city councils and organizations of all sizes need leaders who see beyond the horizon — and who will help define a paradigm shift towards social, economic, environmental and political change.
Are you ready?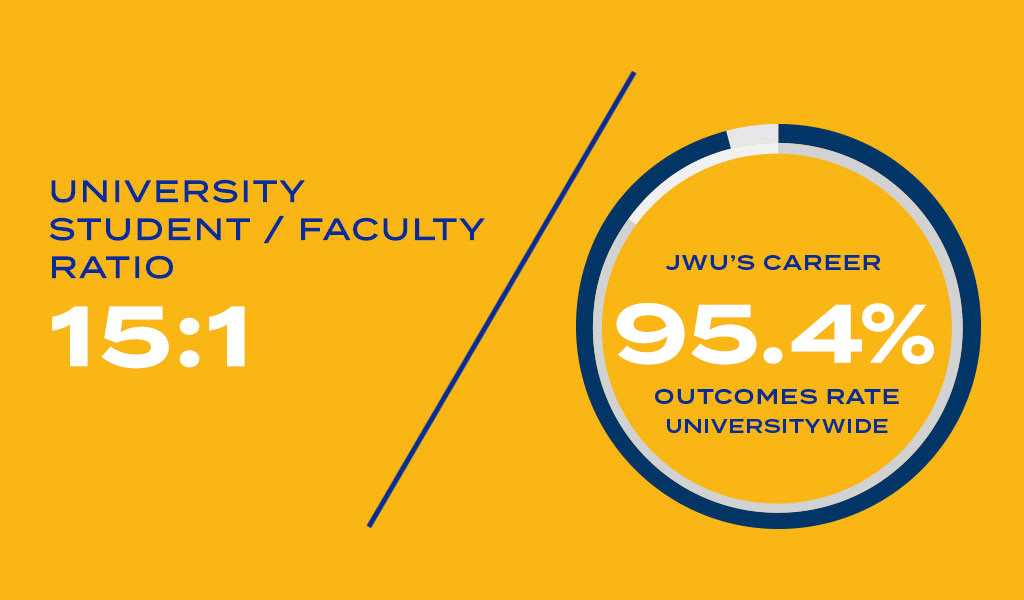 Admissions is contingent upon meeting the technical standards for this program. To learn more, visit the JWU Catalog's technical standards.
---
Choose Your Core: Culinary or Baking & Pastry Foundation
Your first year will be defined by core baking & pastry or culinary courses that make up a common foundation.
Toggle

Baking & Pastry Foundation
BPA1701: Foundations of Baking and Pastry
BPA1710: Principles of Cake Production and Design
BPA1720: Plated Desserts
BPA1730: Artisan Bread & Viennoiserie I
BPA1740: Artisan Bread & Viennoiserie II
BPA1750: Chocolate, Confections & Mignardise
Toggle

Culinary Foundation
CUL1100: Introduction to Culinary Skills and Techniques
CUL1210: Breakfast & Lunch Cafe
CUL1320: Elements of a la Minute Cooking
CUL1410: Contemporary Cooking & Leadership Functions
CUL2510: Contemporary Restaurant Operations and Management
CUL2810: Global à la Carte
We're actually teaching students about the political economy that surrounds their food. You can take an action-based approach to address sustainability like no one else can. PROFESSOR BRANDEN LEWIS