Program Overview
Human resource managers with business and financial credentials are in high demand, especially in the areas of strategic planning, compensation and benefits. These senior HR executives develop, implement and administer increasingly sophisticated rewards and benefits policies — including salaries, bonuses, pensions, life insurance and medical insurance packages. In fact, the Bureau of Labor Statistics projects 6% employment growth in this field from 2019 to 2029.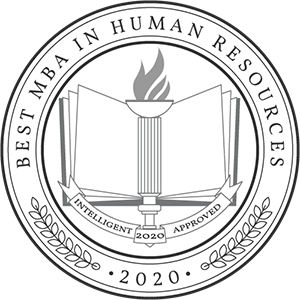 Intelligent.com Ranks JWU in the Top 50 Online HR MBAs
Take the fast track to becoming an HR executive through an MBA with a concentration in Human Resource Management. Our world-class MBA program is designed to accommodate the schedules of working professionals.
Developed and updated in collaboration with leading companies, our professionally focused curriculum includes real-world projects and challenges so you can gain experience — what employers value the most.
Our faculty experts are leaders in the industry they teach. They know what it takes to achieve success in their respective fields and share their insights with you.
In our program, you'll learn effective approaches for keeping an organization of any size competitive by strategizing and planning for a company's personnel needs. You'll then create effective policies and programs to attract and retain the best talent.
This concentration provides business students a context for the challenges developing from our rapidly-transforming work environments and evolving workforce. It offers opportunities to seek solutions by complementing business practices with HR management strategies. PROFESSOR ROGER ACHILLE
Sample MBA in HR Management Courses
Human Resource Management

Labor and Employee Relations
Strategic Recruiting, Retention & Succession

Strategic Compensation & Benefits
Organizational Training & Development
For a full course listing, visit the JWU Catalog: