It Starts With A Strong Network
As a leader in experiential education with a strong network of alumni employers, Experiential Education & Career Services (EE&CS) works diligently to connect employers to our students through a variety of on-campus recruitment events.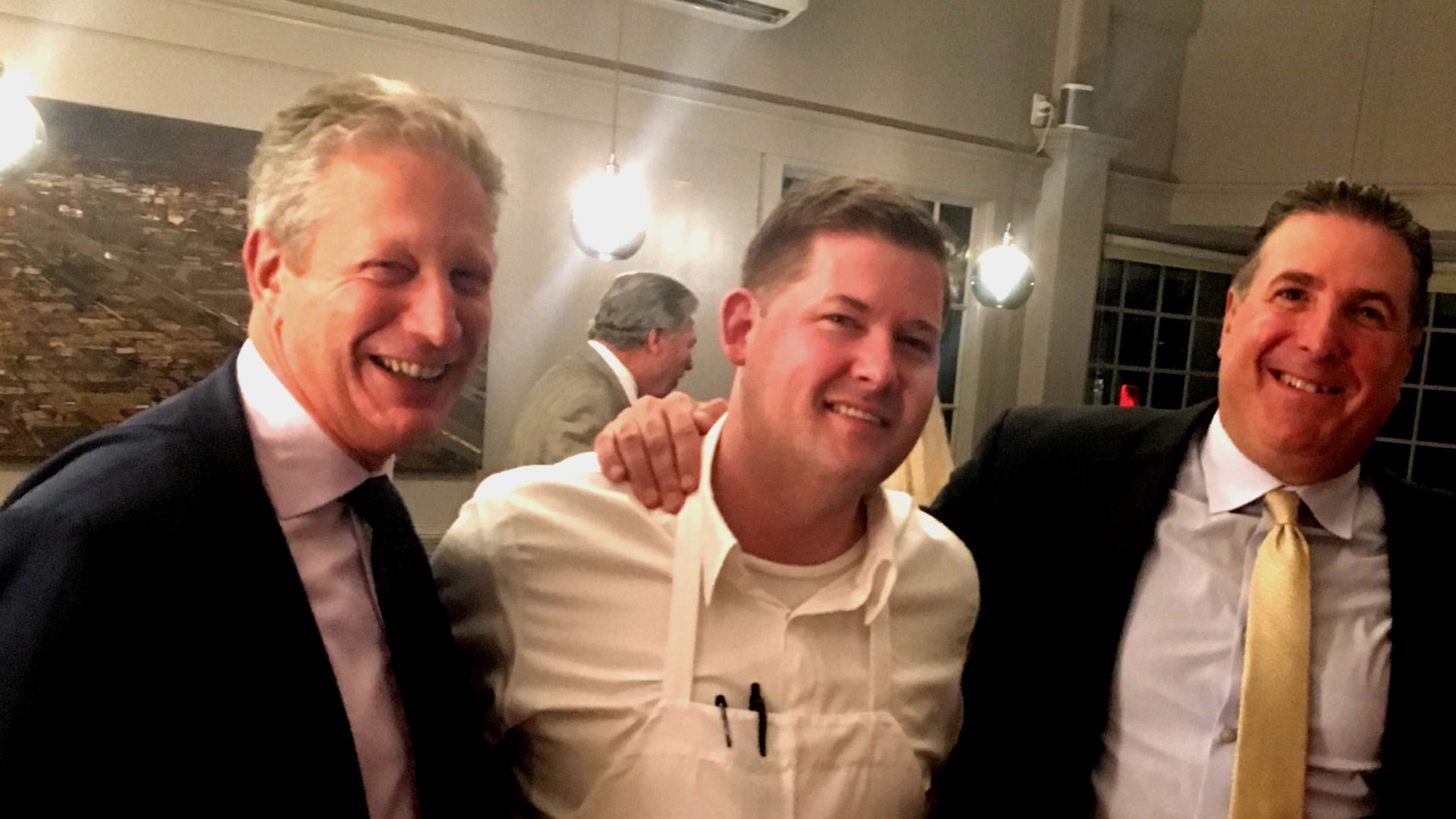 Employers know that in today's competitive job market JWU students have options and for employers to get the best talent, they need to find unique and innovative ways to engage with Generation Z. Our Alumni employers understand the value of a JWU education with industry infused throughout its curriculum, internship, and on-campus engagement. We are their first choice in recruiting this next generation of talent.
One JWU partner connects with their student candidates at a very high and unique level. They address the needs of the business in building future talent and the needs of Gen Z and what these future leaders want to see from an employer. This partner is FLIK Hospitality Group, a division of Compass Group. FLIK recruits for their highly competitive management-in-training program (MIT) where students go through a rigorous interviewing process.
Leadership Stays Engaged With Candidates through the Process
The level of commitment to JWU and our students is seen throughout the interview process with functional management and leaders in attendance for on-campus recruitment at various stages of the interviewing process. FLIK CEO Scott Davis '80 makes it a priority to inspire his executives to attend the final step in the interview process with him. Year after year, he brings executive leadership to this dinner to engage with and pitch their business account to the final candidates. Scott says that the "ultimate goal is to plan for a strong bench of leaders who will be the future of running the organization in the years to come." Below, hear from Davis and a recent JWU FLIK recruit:
This year's final interview dinner was held at Persimmon in Providence, Rhode Island, which is owned by
Champe Speidel
'00 '16 Hon., a 6-time James Beard Award nominee for Best Chef: Northeast. Champe is an avid supporter of JWU, providing both internship and employment opportunities for students at his establishment. Holding this unique event at Persimmon allowed him to connect with fellow alumni and provide support and inspiration for the students preparing for this final step in the hiring process.
This year, the following executives were in attendance for this final candidate dinner:
CEO Scott Davis '80
Sector President Rick Russo '87
Adam Freed, senior vice president of creative development
Ray Mulligan, division president
Senior VP Neil Gardner
Eileen Coughlin, regional vice president
Jim Campbell, vice president of operations
John Tonole, regional director
Jan Los, chief financial officer
Sandra Koehler '08, regional director of wellness, marketing, and sustainability
"JWU has been strongly connected to Compass Group for over a decade. They are personally vested and want to hire JWU graduates." - Maureen Dumas, Ed.D. vice president advancement & university relations
---
A CEO's Perspective: Scott Davis '80
We spoke with FLIK CEO Davis and asked him what it is he sees in JWU talent that solidifies his investment, extra effort and expense in FLIK hosting this event for candidates every year. Here is his response:
"JWU does an excellent job fast-tracking their students to take on leadership roles in the hospitality industry. It would be very difficult for my organization to maintain its growth targets without the support of JWU graduates. A big thank you to the faculty and leadership at JWU, your efforts have enabled us to perform at the highest levels and with your support build a great environment for JWU graduates year after year.
"In order for FLIK to deliver hospitality at the very highest levels, it's important to treat everyone that comes in contact with the organization to the best possible experience, regardless of where we may meet those individuals. Taking the time to have one-on-one conversations over a great dinner experience helps establish the right foundation and knowledge to begin any relationship.
"As an alumnus of the university, I have personally benefited from the knowledge and experiences afforded me during my college years. A good deal of my own success is attributed to my education at the University. It is a privilege and a duty to continue the relationship, it is hugely rewarding to be able to help any JWU student get a head start in the hospitality field."
"It would be difficult for my organization to maintain its growth targets without the support of JWU graduates." - CEO Scott Davis '80, FLIK Hospitality Group
FLIK Sector President Rick Russo '87 also weighed in on the value of maintaining strong ties to JWU: "Having graduated from JWU and staying active with the university, I understand the knowledge that these students are acquiring along with the practical experience they are gaining through internships. Many of our future and current leaders within FLIK Hospitality have graduated from JWU. I take personal interest in meeting each and every MIT that we hire. The future of our business is directly linked to the future leaders in our organization and I would put the JWU trainees at the top of that list."
---
What The Interview Process Is Really Like: Georgia Reynolds '19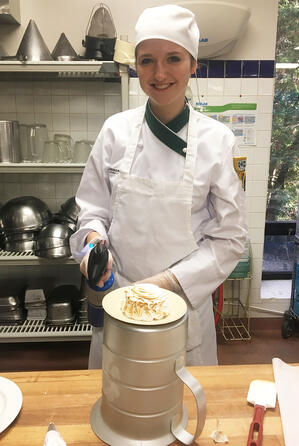 Georgia Reynolds '19 is a Baking & Pastry Arts and Food Service Management major from Pismo Beach, California. She applied for the FLIK MIT program and was a final candidate at the interview dinner. She shared some of her story with us about her path to this final round and what it took to get there:
"The first thing I did was contact EE&CS to inquire about the MIT program and what I needed to do to become a serious candidate.
"I had completed an internship with Compass Group, the parent company of FLIK, and thoroughly enjoyed my experience. I knew I wanted to be a part of this amazing company that fit with my passion and values. One of the things that impressed me most is the well-defined career path that the company provides to its employees. This really came to life for me during the process.
"I believe that my corporate dining internship helped to bring my academics to life and prepare me for the industry and exposed me to the culture giving me a leg up in in being seriously considered for the position. 

Timeline for the FLIK's Trainee Interview Process:
Applied in August/early September
Crafted a highly customized resume along with a compelling cover letter for the position and have it critiqued by a career advisor
Met on-on-one for a mock interview with a career advisor
Attended a company information session during which each candidate needed to stand up introduce themselves by name, major, graduation year, hometown, and sector of business interested in joining
Recorded a HireVue video interview
Conducted a face-to-face interview during on-campus recruitment, speed dating-style! After expressing interest in joining the FLIK sector I was sent to a 10-minute interview with the manager of an account at a Boston law firm followed by 10 minutes with two JWU alums who ran other business accounts in Boston. This then led to inviting me to a shadow day with them the very next day.
I was chosen to attend the Final Candidate Dinner. I reached out to my advisor in EE&CS who prepared me for how to authentically network and sell myself during this dinner and how to ask questions of the leadership attending. This is when I found out that leadership would vie and compete with each other for final candidate selection. This was really important because EE&CS helped me to understand that I also had a choice in this process!
A week later I was made an offer by one of the executives I met at the dinner who I clicked with. The following week I had a signed contract with my first position locked down in November — SIX MONTHS before graduation. I've stayed in touch with them and have been nothing but impressed with the way they have engaged with me from the start and cannot wait to begin my career with Compass in the FLIK Hospitality Group this June in San Francisco!
Congratulations, Georgia! We are so happy to share your story and success and hope that it inspires other students thinking about their paths to consider internship and working with EE&CS to prepare for these competitive management training opportunities. You have many JWU alumni in leadership roles at FLIK who we know are cheering you on as well!
Georgia wasn't the only candidate chosen. Twenty-three other students graduated this year with a management training program offer in hand from FLIK. Congratulations to all of them for working so hard to earn this opportunity!
Want more? Visit EE&CS to prepare for the most competitive opportunities available through on-campus recruitment.
Are you an alum? Share your story with us by contacting pvd.careerservices@jwu.edu.
Get social! Follow JWU Providence EE&CS on Instagram and Twitter.