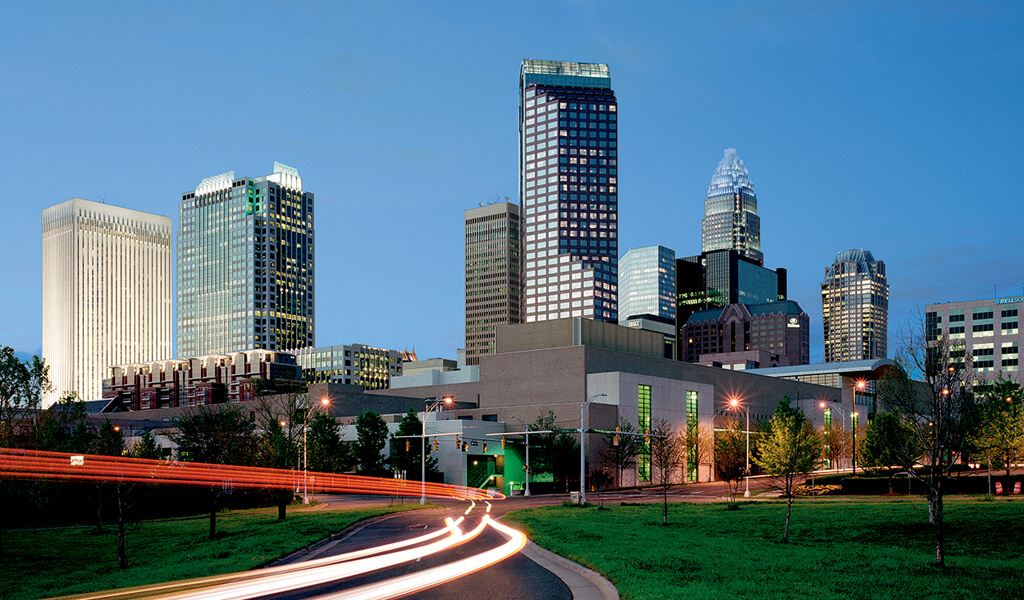 When civic and community leaders in Charlotte were looking to partner with a university to promote economic and community development — and produce graduates primed for employment in the expanding city — they turned to JWU.
Unique Civic-Private Partnership
The university's programs and approach seemed perfect for the business and hospitality industries that anchor the regional economy. Recognizing that its smaller, leased campuses in Charleston and Norfolk did not provide the ideal environments for continued, strategic growth, JWU accepted this unique public-private partnership offer. The state-of-the-art $110 million Charlotte Campus opened in 2004 with an enrollment of 1,100 students and quickly grew.
Today, the nearly 2,000 enrolled students are pursuing career success through 12 distinct degree programs in facilities that include six buildings on 13 acres in Uptown Charlotte.
Meanwhile, the assumptions made about JWU's economic impact proved correct. JWU has invested more than $92 million in construction on its Charlotte Campus, about three-quarters of which was done by Charlotte-area contractors. Businesses in Charlotte and elsewhere in Mecklenburg County have also enjoyed an infusion of spending on campus goods and services.
Student-centered Campus
In order to succeed in today's work force, college graduates need the ability to work effectively in cooperative and competitive environments. Involvement in student organizations and sports and fitness activities is an ideal way to nurture this ability.
To provide students with these experiences, JWU has built a $6.5 million, multipurpose facility for student life and athletics. The 33,000-square-foot facility was constructed on the former site of a parking lot, adjacent to the Carolina Panthers practice field. It houses more than 30 student clubs and organizations encompassing cultural arts, community service, professional 
development and student government. The Student Center also features a comprehensive fitness center and serves as home to an expanding range of sports teams.
In addition to providing a vibrant hub for activities that enliven school spirit and give students a reason to reside and play on campus, the facility helps JWU sustain its reputation for high-quality, career-focused education and contribute to the vitality of the Gateway Village area.