Epicurean Scholarship Society
The Epicurean Scholarship Society has become a signature of Johnson & Wales University's longstanding reputation and expertise in food, hospitality, and connection to community and business leaders.
Approximately 98.5% of all JWU on-campus students receive institutional scholarships and/or grants from the university. At the Providence Campus, more than 30% of all incoming first-year students are considered first generation students, and most work at least part time to supplement their financial aid dollars.
Our Scholarship Commitment
The Epicurean Society is part of the university's holistic commitment to making higher education both affordable and accessible.
Membership in this distinguished group offers unique culinary experiences while supporting our hard-working students. Society events — led by guest chefs who are assisted by JWU students and faculty — include culinary demonstrations, receptions, seated dinners and cocktail gatherings.
Membership donations and annual contributions to the Epicurean Scholarship Society provide scholarship support that helps to fulfill the aspirations of talented culinary and hospitality students. Given today's challenging economic environment, this philanthropic endeavor is more important than ever.
JOIN THE PROVIDENCE SOCIETY JOIN THE CHARLOTTE SOCIETY
I invite you to join the JWU Epicurean Scholarship Society to ensure that all deserving students — not just those who can afford it — have the opportunity to achieve their dreams. Providence Campus President MARIE BERNARDO-SOUSA, LP.D., '92
---
Membership Benefits
When you join the Epicurean Scholarship Society, you will be part of a distinguished group of philanthropists while enjoying other exclusive benefits, including:
Exclusive access to celebrity chefs, sommeliers and restaurateurs
Invitations to virtual or in-person events
Opportunities to support the university philanthropically
Lunch in the university dining room once a year
Customized cooking courses or experiences, tailored to your group's interests (pricing determined based on program requested)
A portion of your membership is tax deductible (the full membership is deductible if you opt out of events)
The types of events offered may differ slightly at each campus. Refer to your respective campus' Giving page for membership levels, benefits, and more.
---
Providence
The Providence Campus established the Epicurean Scholarship Society in 2015. To date, the society has raised more than $200,000 in scholarship support and has assisted dozens of students pursuing a JWU education — while offering members culinary experiences unlike any other in Providence.
Past events have included exclusive culinary experiences with the following JWU alumni:
Chef Lorena Garcia '00, '14 Hon., chef, restauranteur, television personality, producer and cookbook author
Eric Adjepong '10, chef-owner, Pinch & Plate; finalist on Bravo's "Top Chef"
Lindsay Autry '04, chef-owner, Regional Kitchen & Public House
Stephanie M. Cmar '07, finalist on Bravo's "Top Chef"
Thomas Condron '88, executive corporate chef, Bank of America/Compass Group
Chris Cosentino '94, chef/owner, Acacia House; winner of Bravo's "Top Chef Masters"
Tyler Florence '94, '04 Hon., owner, Wayfare Tavern and Miller & Lux; chef, restaurateur, television personality, producer and cookbook author
Eric Haugen '07, founder-president, ERICKIMGROUP
David Kinch '81, '14 Hon., chef-owner, Manresa
Robert Sisca '03, executive chef-partner, Bistro du Midi
Champe Speidel '00, '16 Hon., chef-owner, Persimmon
Derek Wagner '99, '19 Hon., chef/co-owner, Nicks on Broadway
BELOW, LEFT-RIGHT: ALUMNI CHEFS WHO HAVE TAKEN PART IN EPICUREAN EVENTS INCLUDE TYLER FLORENCE, STEPHANIE CMAR, ERIC ADJEPONG, DAVID KINCH, AND CHRIS COSENTINO. 

I came to JWU because of the amazing community. I rely on scholarships to get through school. With your donation, I can focus more on my classes rather than worrying about how I'm going to pay for school. DAKOTA FRENCH '22, Culinary Arts
Charlotte
The Charlotte Epicurean Scholarship Society, established in 2008, is a special gathering of friends of the university who meet for culinary demonstrations and dining while supporting our students with scholarships.
To date, the Charlotte Epicurean Scholarship Society has raised more than one million dollars to support our deserving students.
Past events have included exclusive culinary experiences with JWU alumni, restaurateurs, wine professionals and Nobel Peace Prize nominees. A selection:
José Andrés, founder, World Central Kitchen
Chef David Burke, David Burke Hospitality Management
Katie Button, executive chef and co-owner, Cúrate
Greg and Subrina Collier, owner and executive chefs, Leah & Louise; founders, BayHaven Restaurant Group
Farmer Lee Jones, owner, The Chef's Garden
Joe Kindred '02, 2016 James Beard Nominee, Best Chef: Southeast; co-owner and executive chef, Kindred
Virginia Philip '89, '15 Hon., founder, Virginia Philip Wine Spirits & Academy
Ed Scarpone '09, corporate chef, STARR Restaurants
CHEF DAVID BURKE AT A 2021 CHARLOTTE EPICUREAN SOCIETY DINNER.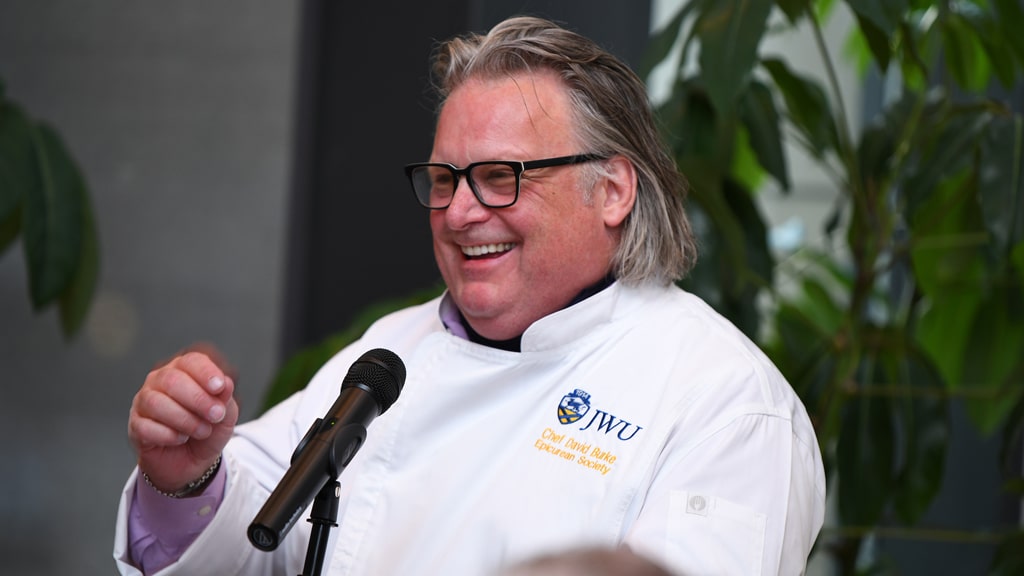 ---
Johnson & Wales University is a qualified 501(c)(3) organization. The amount of your contribution that is deductible for tax purposes is limited to the excess of your contribution over the value of the goods and services that were provided to you in conjunction with this gift. We estimate the fair market value of these goods and services to be $175 per person or $350 per couple.