Program Overview
The world of hospitality brings some of the best things in life — travel, dining, resort vacations, adventure and cultural excursions and more. If you love the idea of building a career in these exciting industries, JWU has you covered.
Through JWU Providence's Hospitality Management degree, you don't have to limit yourself to just one area. Our bachelor of science (B.S.) program is structured to give you the flexibility to choose your own path within this growing industry.
Start with a foundation that builds a broad understanding of technology, management/leadership skills, and emerging operational trends in hospitality. Expand your knowledge through core courses that include Hospitality Strategic Marketing, Managing the Hotel Guest Experience, Dynamics of Tourism & Sustainability. Throughout the program, you'll apply best practices in business management to address the unique opportunities and challenges within the dynamic field of Hospitality Management.
From there, customize your degree by choosing from a range of electives. Mix and match to explore your range of career interests, or choose one of the following optional specializations:
Food & Beverage Management
Hotel & Resort Management
Sustainable Tourism
Round out your degree with arts and sciences courses — with subjects including communications, nutrition, and economics, to name a few. Add some real-life experiences through study abroad programs and internships, and your career options are limited only by your imagination.
Begin preparing for your professional career in the hospitality industry now. The possibilities are endless.
---
Powered by Purpose: Elijah Brown '25
One of the reasons Elijah Brown '25 loves hospitality so much is that it's an industry where "there is never a time when you stop growing."
As a first-generation college student, Brown thrives by pushing himself outside his comfort zone. His longterm goal is to become a general manager of a luxury resort. From being awarded the 2022 RI Hospitality Stars of the Industry Hotel Employee of the Year to studying abroad in Italy, he is well on his way.
JWU's College of Hospitality Management finds amazing opportunities for students to get into the world, from hotels to resorts to stadiums and fine dining. MELODY HUANG '24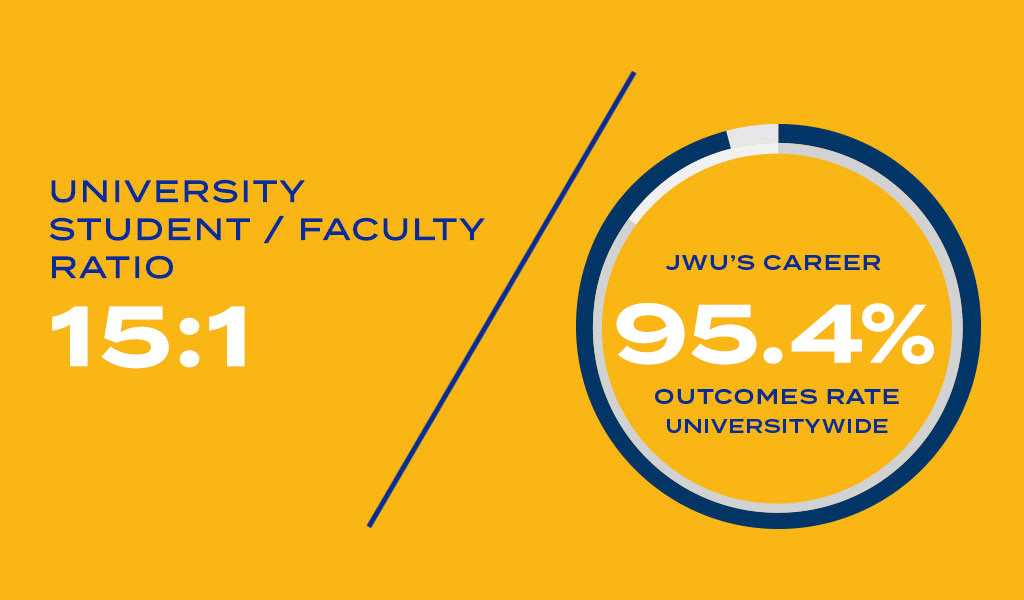 ---

Program Differentiators
What makes JWU's hospitality management program different?
Required courses focus on transferable management skills and abilities, no matter where your career takes you.
Electives may be used to tailor your program according to your career goals. JWU has a breadth of courses available in food, beverage, hotels, events, travel and entertainment.
Electives can also be used for a study abroad program, a Directed Experiential Education (DEE) project, or an internship.
As a leader in hospitality education, we've built a global network of industry connections looking to hire our success-ready students and alumni.
Get the full picture by downloading the Hospitality Management infographic for details on all the advantages of earning your bachelor of science degree here.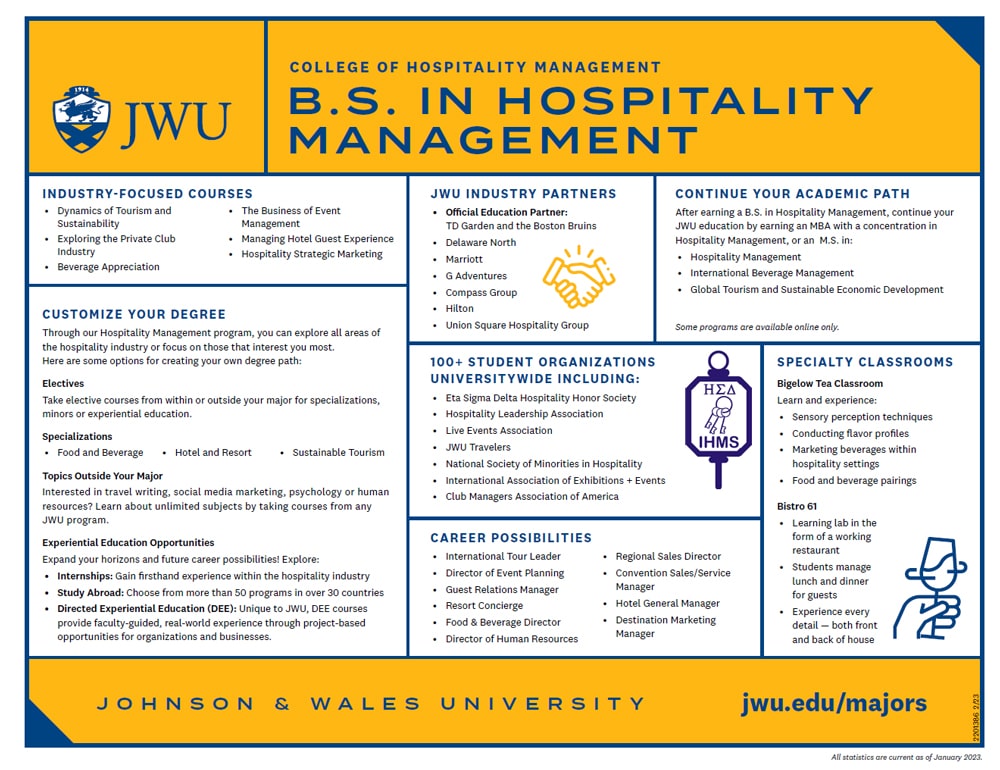 ---
Sample Hospitality Management Foundation Courses
Dynamics of Tourism and Sustainability

Food Service in Hospitality and Tourism
Orientation to the Hospitality Industry

Hospitality Sales and Meeting Management
Managing the Hotel Guest Experience

Technology in the Hospitality Industry
In addition to classes, free elective credit can be applied to a number of options such as Directed Experiential Education (DEE), internship, minor or study abroad. You are encouraged to contact an advisor before scheduling free elective credits.
View the full JWU Catalog listing:
---
Specialization: Food & Beverage Management
Beverage Appreciation

Beverage Operations Management
Food Service Operations

Advanced Food Service Operations Management
Front of House Operations Management
---
Specialization: Hotel & Resort Management
Hotel Asset Management

Resort, Vacation Ownership & Spa Management
International Hotel Operations, Development & Management
Sustainable Hotel Support Operations

Revenue Management
---
Specialization: Sustainable Tourism
International Policies of Tourism

Food Culture & Tourism
Destination Management Organization

Tour Management Operations
World Geography for Tourism & Hospitality