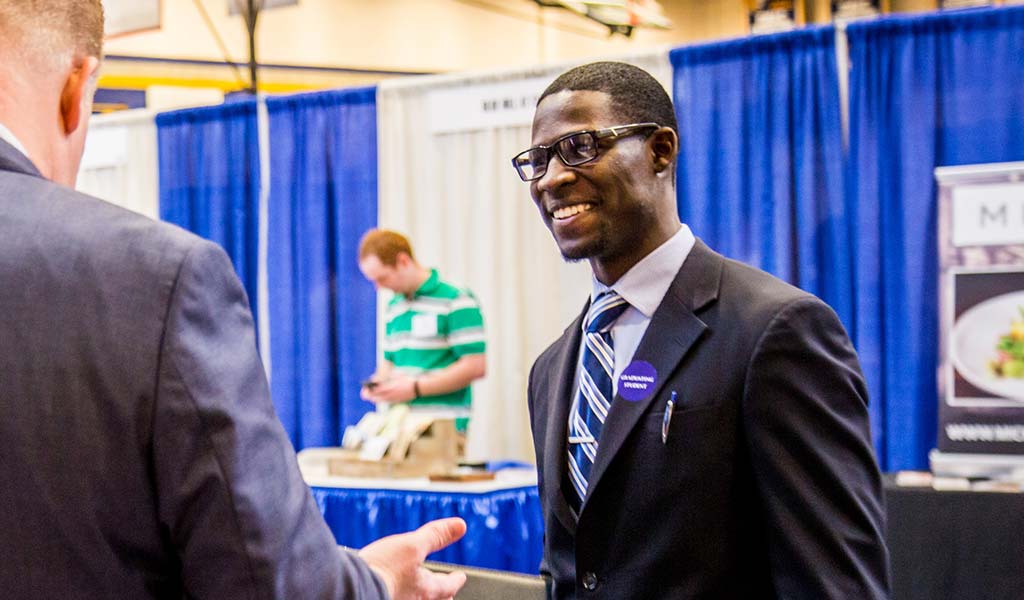 Advance Your Career
Our wide range of evening, weekend and online continuing education programs at our campuses in Providence and Denver are perfect for working professionals, career changers, degree completers or first-time students.
You'll learn from faculty who are working professionals in the subjects they teach, and who help you turn theory into practice. They get to know you and your career aspirations in small classroom settings, while providing support and mentoring opportunities.
Our liberal transfer credit policy will make your education even more affordable. And our four academic terms give you the flexibility to schedule courses when it's convenient for you.
Look closer and learn more about how JWU has been preparing students for successful careers for more than 100 years.
REQUEST MORE INFORMATION | APPLY NOW
CONTINUING EDUCATION VIEWBOOKS: DENVER (Issuu) | PROVIDENCE (Issuu)
Class Hours
Providence Campus
Arts & Sciences | Business | Hospitality | Engineering & Design
Classes meet one evening per week, Monday-Thursday from 6-9:30pm. We also have online and selected Saturday morning classes.
Culinary Arts | Baking & Pastry Arts
Labs meet on Sunday from 7am-6:30pm. Academic classes meet on Saturday morning or afternoon. Check with your admissions officer for evening and online options for academic classes.
Denver Campus
Culinary Arts | Baking & Pastry Arts
Labs meet on Saturday from 7am-6:30pm. Academic classes meet on Sunday morning or afternoon. Check with your academic counselor about options for evening and online academic classes.
Programs Offered:
The following degrees are offered at the Providence and Denver Campuses on the weekend:
Baking & Pastry Arts (AS): Providence | Denver
Culinary Arts (AS): Providence | Denver
The following degrees are offered at the Providence Campus in the evening (you may also take classes on Saturday and online):
Accounting
Baking & Pastry Arts and Food Service Management
Business Administration
Business Studies
Criminal Justice
Culinary Arts and Food Service Management
Finance
Hotel & Lodging Management
Human Resource Management
Liberal Studies
Management
Marketing
Psychology
Restaurant, Food & Beverage Management
Tourism & Hospitality Management
Management (Certificate)
Professional Craft Brewing (Certificate)


FAQs
Do I have to enroll in a degree program? What are my options?
You may enroll as an extension student. As an extension student, you would not need to submit any transcripts (high school or college). The tuition is the same for an extension student; however we do limit the number of courses/labs you may take. At a later date, if you decide to enroll in a degree program you must submit official documentation verifying high school completion or GED, as well as any prior college transcripts. Acceptance will be subject to the university's current admissions requirements.
As a continuing education student, can I take day classes?
Under special circumstances, a CE student may enroll in one day class if space is available as long as they are enrolled in an evening or weekend class.
Can I transfer my college credit?
Yes. Our Transfer Evaluation System provides you with information on the courses that have previously been evaluated and accepted at Johnson & Wales University, and our liberal transfer credit policy awards the maximum amount of college credit if you meet the following conditions:
Your previous coursework relates to your intended field of study.
You earned a grade of "C" or better (with a numeric value of 2.0).
Do you offer credit for life or work experience?
Yes, JWU offers "prior learning assessment credit", allowing you to earn credits for the knowledge or skills you've mastered through: employment, volunteer work, travel programs, organizations or other comparable sources.
Credit can be earned through portfolio development or with departmental challenge examinations (credit by examination).
JWU also accepts College-Level Examination Program (CLEP) examination credit.
How long will it take to obtain my degree?
The answer will differ for each individual, based on various factors. Transfer credit and prior learning credit will reduce the length of a program.
Is financial aid available for continuing education students?
Yes. ALL students should complete a FAFSA — not all financial aid awards are based on need. When you complete the FAFSA, use the school code 003404 for any JWU campus. Once you have applied to JWU, you will work with your admissions officer and financial planner to have your award processed and all your questions answered.
Are there any scholarships available for continuing education students?
You may apply for the Pell Grant when you process your FAFSA. Because the continuing education tuition is already discounted, we don't offer any JWU scholarships for continuing education students.
Are there payment plans available?
JWU offers a variety of payment options for our continuing education students. We encourage all students to set up an appointment with their financial planner well in advance of the start of each term to discuss their individual options.
What is the internship program?
Most of our degree programs allow students to complete an internship. The internship is a vital part of the degree program. Students gain valuable skills, build their resume, network with professionals and start to make the transition from student to professional.
Is JWU certified to receive GI Bill education benefits?
We work with the following federal education benefit programs for veterans and active duty personnel:
GI Bill
Yellow Ribbon Program
Post-9-11 GI Bill
Tuition Assistance (TA)
We have School Certifying Officials on campus that can help you through the process of applying and utilizing these funds. We also work with veterans on vocational rehab. Find more military information at JWU.
How do I apply?
You can apply online or complete and mail your Providence or Denver application (920K PDFs)